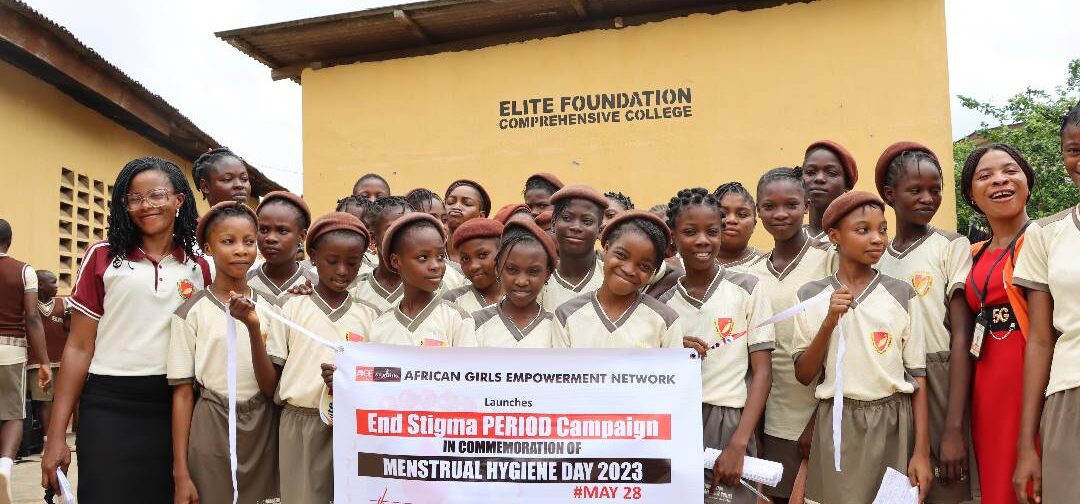 AGE Network Launches #EndStigmaPERIOD campaign
Press Release
For Immediate release
Ogun, Nigeria- Ahead of the World's Menstrual Hygiene Day  May 28 2023, the African Girls Empowerment Network, a young feminine front-line civil society organization has launched #EndStigmaPERIOD, a campaign to end period poverty and stigma in Nigeria and break barriers to girls' education.
The Group Administrator,  Matina Ebri while addressing the girls  during the #EndStigmaPERIOD community sensitization session in Champion College and Elite Foundation Comprehensive Colleage  on Wednesday 24th May 2023 disclosed that the #EndStigmaPERIOD campaign is part of the group's ongoing gender transformative effort to make schools and communities #SafeforGirls
"We are  committed to promoting menstrual hygiene and eradicating the stigma associated with periods to reduce their vulnerability to child marriage, teenage pregnancy, HIV and school dropout. Thanks to the support of our partner @ECMNigeria @GirlsNotBrides, @MPT, we are targeting girls girls in the hard-to-reach communities and schools, we want to reach a significant number of girls, creating safe space and providing them with valuable knowledge and empowering them to manage their menstrual health confidently." Ebri said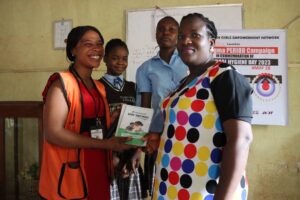 During the sessions, the team engaged the girls in insightful discussions, addressing common misconceptions and breaking down the stigma surrounding menstruation. They emphasized the importance of adopting hygienic practices, including regular changing of sanitary pads and maintaining cleanliness during menstruation. Furthermore, the girls were educated about the significance of proper disposal methods to ensure both personal hygiene and environmental sustainability.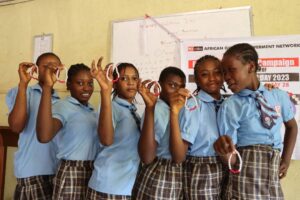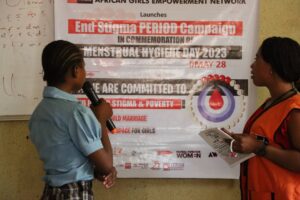 In another development, the group also released a short video on  the stigma and misconception surrounding Menstruation;
"Menstruation is a healthy and natural process that is integral to the reproductive cycle of women. However, in Nigeria, many women and girls continue to face the challenges of period stigma and poverty. This issue is exacerbated in certain communities where access to safe and hygienic menstrual products is limited, and where women and girls are regarded as impure or unholy during menstruation. This stigma leads to exclusionary practices, such as restrictions on entering certain places or touching certain objects within their own homes, and girls often miss out on their education due to menstruation.
"In this Menstrual Hygiene Month 2023, we are dedicated to reaching out to young women and adolescent girls, especially those in vulnerable and displaced settings, as well as those with disabilities. Our aim is to provide them with sanitary pads and comprehensive education about menstruation. Furthermore, we recognize the importance of engaging men, boys, and community leaders in order to eradicate period stigma and alleviate the associated poverty.
"We invite you to take action and support our "#EndStigmaPERIOD" campaign in Nigeria. Your donation will contribute to making period stigma a thing of the past. By providing sanitary pads and education, we can empower women and girls, enabling them to manage their menstrual health with dignity and without hindrance. Together, we can create a society where menstruation is not a barrier to education, opportunity, or equality. Donate today and help us make a positive change in the lives of women and girls in Nigeria.
For more information about the #EndStigmaPERIOD Campaign or to arrange for interviews, please contact  Victoria Olarenwaju & Media Team, African Girls Empowerment Network: info@agenetwork.org, Tel/WhatsApp +2348062762068.
Notes to editors:
African Girls Empowerment Network (AGE Network), is a registered young feminine frontline civil society organization dedicated to reducing gender inequality by empowering and advancing the human rights of young women and girls particularly those the displacement & vulnerable settings. We advance gender equality in girls' education, promote young women's sexual & reproductive health & rights, bolster women's role in leadership and economic inclusion, as well as strengthen the capacity of young women/girls-led groups in Nigeria. (www.agenetwork.org, stem.agenetwork.org)