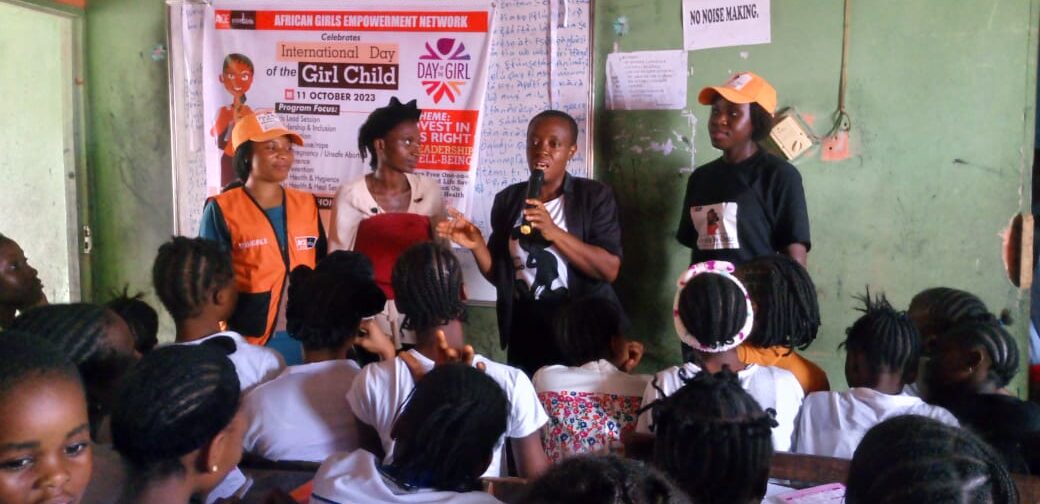 Invest in Girls' Education in Nigeria; says AGE Network
Press release
For Immediate release
Ogun, Nigeria, As the world celebrates the International Day of the Girl Child on October 11, 2023, African Girls Empowerment Network, a young women and girls-led group in Nigeria, is calling for increased investment to secure girls' right to education and leadership inclusion in Nigeria.
The group hosted a one-day LetGirlsLead summit to commemorate the Day of the Girls Child 2023 for girls from Elite Comprehensive College Sango Ota, Royalty International School, and Access College and to build girls' agency, skills, and leadership and improve their knowledge to reduce their vulnerability to teenage/unwanted pregnancy, child marriage, HIV/AIDS infection, and school dropout.
Ms Matina Ebri, the group Administrator while taking a session at the summit said, "Today, October 11, 2023, marks the 11th anniversary of the International Day of the Girl Child and the theme of the year is "Invest in Girls Right; our leadership, our well-being." As a leading Girls' movement in Africa, I would like to take the opportunity to call upon you as parents and teachers, the society, and the government to invest in girls' education in Nigeria. Education is the right of every child including the girl child. but as we all know; Nigeria currently accounts for the highest of out of school children and child marriages in Sub-Saharan Africa and a home to nearly 26 million child brides and this calls for urgent action.
She also enjoined the girls to exercise their right to education,  avoid risky behaviors, stay in school, and develop their interest in STEM education; Talking about the importance of Education, reminding the girls that they are the changemakers of tomorrow, she said;  "Girls, do not forget that education is not just a right; it is your passport to a world of opportunities and a key to unlocking a bright future for yourselves," said Miss Ebri, "Being educated opens doors, breaks the cycle of poverty, and empowers not just you but your families and communities as a whole, so you have to challenge yourself enroll in STEM courses" she added.
Mrs. Aderonke, a member of the group who also facilitated a session on girls' agency and leadership at the summit said leadership is not a gender thing "Girls don't let anyone tell you that you can't be a leader just because you're a girl because leadership knows no gender. So, you have to embrace your power and know you can fulfill your potential to be a leader no matter what it takes".
During the event, the girls participated in interactive sessions that empowered them to embrace their leadership potential. They were also made to understand that they hold the key to creating impactful change in the world, and they must realize their rights are equal to those of boys. The group also emphasized the girls' right to choose when and whom to marry, safeguarding them from early marriages and any form of sexual abuse. Through the event, the girls were empowered to stand up for justice, reminding them that their voices can make a difference in the world.
For more information about the #LetGirlsLead Campaign & to get involved, or to arrange interviews, please contact Mrs Aderonke or #LetGirlsLead Team, African Girls Empowerment Network: operations@agenetwork.org, Tel/WhatsApp +2348062762068
Notes to editors:
African Girls Empowerment Network (AGE Network), is a registered young feminine frontline civil society organization dedicated to reducing gender inequality by empowering and advancing the human rights of young women and girls particularly those at the displacement & vulnerable settings. We advance gender equality in girls' education, promote young women's sexual & reproductive health & rights, bolster women's role in leadership and economic inclusion, as well as strengthen the capacity of young women/girls-led groups in Nigeria. (www.agenetwork.org, stem.agenetwork.org)
AGE Network remains dedicated to its mission of empowering and uplifting girls, ensuring they realize their full potential and become the leaders of tomorrow. To support this cause, we invite everyone to join us in investing in girls' education and creating a brighter future for all.