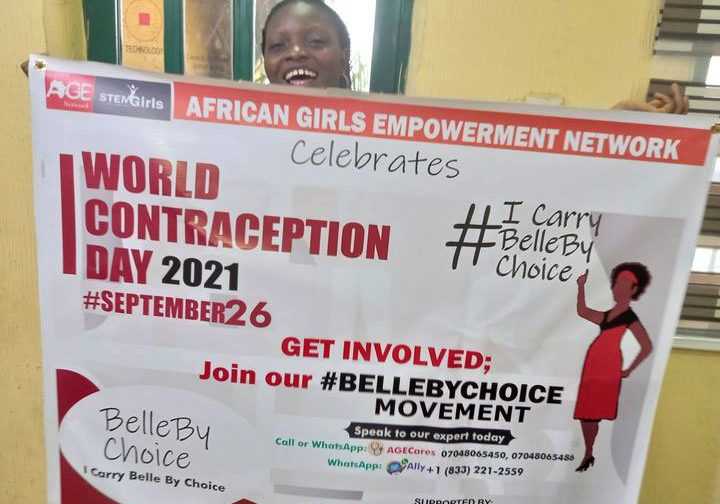 AGE Network launches #BelleByChoice Campaign
Ogun Nigeria – As the world marks World's Contraception day 2021 on 26 September 2021, African Girls Empowerment Network, a young feminine frontline women's rights organization in Nigeria is calling for women's right to pregnancy by choice.
Announcing the launch of their flagship program #BelleByChoice Campaign on Sunday, 26th September 2021 during the Facebook Live chats, the group said; The #BelleByChoice aims to raise awareness and help young women and adolescent girls access contraception & family planning commodity "Today in commemoration of World's Contraception Day 2021, we are very excited to announce the launch of our #BelleByChoice Campaign an initiative that advances the sexual & reproductive health & rights of young women and girls with the focus on access to modern contraception and family planning commodities to end unintended pregnancy and unsafe abortion among young women and girls particularly those in the vulnerable and displacement setting and promote their bodily autonomy and sexual rights."
"We believe that access to timely and nonjudgmental information and services on Sexual and Reproductive Health can help young women and adolescent girls particularly those at the displaced and hard to reach communities make informed decisions and choices on their reproductive health, avert irreparable damage or even death. So through the #BelleByChoice Campaign, we aimed to raise awareness on the various contraceptive methods available and engage young women and girls as #BelleByChoice Promoters in their communities."
The group also called for joint efforts and collaboration with relevant stakeholders to promote women's sexual & reproductive health rights in the country "We are calling on the women's sexual rights advocates and civil society actors, development partners, and government to join our #BelleByChoiceMovement and together we will reduce the incidence of unwanted pregnancy and its attendant problem such as unsafe abortion, maternal mortality rate, girls' school dropout, child marriage among others.
In another development, the group also organized a Facebook live chat with ProChoice activists to commemorate the International Safe Abortion Day 2021 On Tuesday, September 28, 2021, African Girls Empowerment Network host another Facebook live chat as part of its effort to end unsafe abortion & promote women's bodily autonomy & sexual rights.
The #ISAD 2021 Facebook Live chat https://fb.watch/8ohFqOt1Fd/ which was focused on "ending unsafe abortion and how to leverage #HealthTech to end unsafe abortion among women and adolescent girls" had in attendance Oluwapelumi Alesinloye-king who is a Sexual and reproductive health professional with 6years of technical expertise on increasing access to youth-friendly SRH information & services, reducing unsafe abortions, and currently the Nigerian Country consultant for Women First Digital; an eHealth platform that leverages the power of the digital revolution by reaching women on their handheld devices; with a total reach of 13 million site sessions, users from over 180 countries, and comprehensive sexual health information available in over 26 languages as a Discussant along with Isu Oham who is a registered Nurse & SRH program officer for African Girls Empowerment Network
Margaret Oyigeya who moderated the Facebook live chat while addressing the participants re-emphasized the importance of #HealthTech; "Health Tech which is also known as telemedicine has been endorsed as a means of providing for much critical health care needs by phone or computer, especially during a pandemic. It is being adopted for a rapidly expanding list of clinical consultations, with the delivery of medications through the post or by local pharmacies." Speaking on the need to leverage #HealthTech to end unsafe abortion, she said;
"According to experts, Telemedicine for arranging self-managed abortion is a safe solution for many women, both now and after the pandemic. Health Tech will remain valuable going forward as a way to reduce unsafe abortion" Miss Oyigeya says
The Discussants- Oluwapelumi and Isu both also shared their thoughts on abortion and the need to leverage health tech to end unsafe abortion among women and adolescent girls.
Asking what is abortion and its importance on women's health. Isu says, "Abortion simply means termination of pregnancy either through induce or spontaneous."
Oluwapelumi also added that; "Abortion is a key component of women's health, just as pregnancy is important to women abortion is also very important to women. Access to sexual and reproductive health needs for women should be facilitated to promote women's health."
In her response to the question regarding using Health Tech in accessing sexual health needs and safe abortion, Oluwapelumi says; "In the society where there is a lot of stigma against women seeking abortion or women that have done abortion. Most women feel guilty when they have done an abortion because of years of conditioning that was sunk into them as a result of society's definition of those kinds of women. There is no consideration of what the woman is going through or the underlining health of the woman."
Commending the current paradigm shift in stigma and discrimination against women's bodily autonomy & sexual rights, Oluwapelumi said; "Though the society is moving away from that era now the stigma still continues, however, health workers are burden with the duty to provide quality information to women to access safe and quality sexual and Health tech has been a lifesaver and a good development to access sexual health needs. Most young people are leveraging this platform because it saves time and is well secure. However, there is a need for on-sight advocates to work with a digital platform to make sure this health-tech platform reaches everywhere.
The partnership between the AGE network and Women First digital is to provide women access to digital platforms to get women in the rural and vulnerable setting.
Calling for reform in Abortion laws to end unsafe abortion among women and adolescent girls in Subsaharan Africa, Isu said, "for the fact that abortion is not even legal on a daily basis women are doing abortion and the implication is that it is unsafe as it is being done in hideout by quark doctors."
In conclusion, Oluwapelumi said; "everything has both good and bad sides so also abortion, but if we want to stop abortion because of the bad side we may end up implicating and harming ourselves and we won't move forward in this country. The women and adolescent girl's health and wellbeing should be encouraged and improved. Abortion should be nonjudgmental and should be an essential health care service. Says Oluwapelumi
Belle (Pregnancy) should be by choice and not by chance Margaret Added.
For more information about the #BelleByChoice Campaign & to get involved, or to arrange interviews, please contact Margaret Oyigeya & AGECares Team, African Girls Empowerment Network: Email: operations@agenetwork.org, Tel/WhatsApp: +2348062762068.