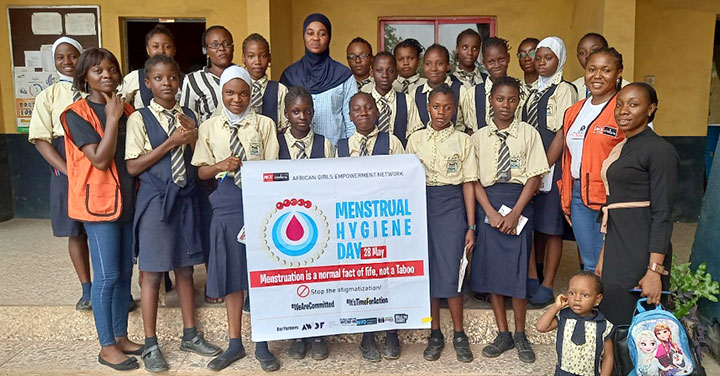 "Create safe and secure menstrual hygiene management facilities to keep girls in school" says African Girls Empowerment Network
Ogun, Nigeria – As the world marks the Menstrual Hygiene Day today the 28 May 2022, African Girls Empowerment Network, a young feminine frontline women's rights organization in Nigeria is calling for state and non-state actors to create safe and secure menstrual hygiene management facilities for young women and girls in schools and public spaces.
In Nigeria, report has it that girls tend to stay away from school during menstruation and this is largely affected by lack of access to affordable hygienic sanitary materials disposal options, adequate water supply, clean toilets, hand washing facilities and access to changing rooms. If these facilities are not always available in schools, it exposes many girls to manage their periods with great discomfort and in unhygienic conditions.
The Program officer Margaret Oyigeya who spoke during the one day menstrual hygiene workshop organized by Group on Thursday 26th May, 2022 in community schools in Ado-odo, Ota, Ogun state, said "menstruation makes girls miss classes due to lack of menstrual hygiene management facilities in some schools and this must stop" "Safe and secure Menstrual Hygiene Management facilities must be put in place in every school and public spaces to help girls manage themselves during menstruation"
The workshop which was organized to commemorate the Menstrual Hygiene Day with the theme "Menstruation is a normal fact of life, not a taboo" and to educate girls and address the myths/misconception and stigma surrounding menstruation such as girls being impure during menstruation or been discriminated against when menstruating.
During the workshop, the girls were taken on Menstrual Hygiene management such as menstrual waste disposal, how to calculate their menstrual cycle, what to do/eat when having menstrual cramps. Through the sensitization, the girls were able to know that menstruation is a normal fact of life and should not be a hindrance or setback for them in any way.
During the interactive session, some of the girls shared their experience/challenges they often face while menstruating. Teni, one of the girls said "when I'm menstruating, I do have heavy flow and I prefer to stay at home because if I'm in school, I'll get stained of sitting too long without changing".
Also, as part of the group's effort to end unintended pregnancy and unsafe abortion, they spoke to the girls about their Belle by Choice program, educating the girls to abstain from premarital and unprotected sex and sanitary pads were shared to the girls to help improve menstrual hygiene.
AGE Network therefore calls for safe and secure menstrual hygiene management facilities for young women and girls in schools and public places.
For more information about the Menstrual Hygiene Day Workshop or to arrange for interviews, please contact Jonah Elizabeth & Media Team, African Girls Empowerment Network: operations@agenetwork.org, Tel/WhatsApp +2348062762068.