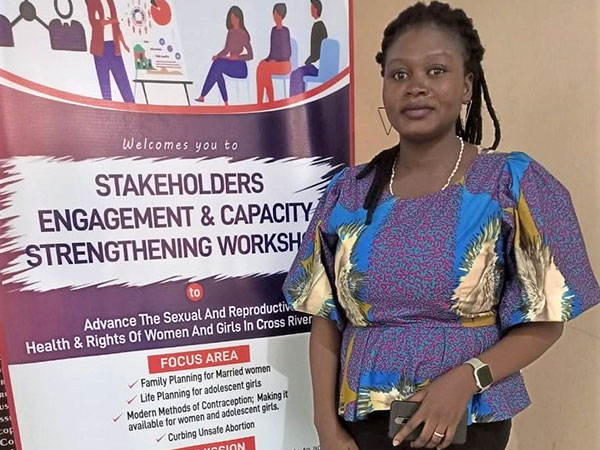 CSW66: 'UN member states should make efforts to honour their commitments at home'
CIVICUS speaks about women's rights and the United Nations (UN) Commission on the Status of Women (CSW) with Eucharia Abua, Senior Programme Officer on Gender and Reproductive Justice at African Girls Empowerment Network (AGE Network).
Founded in 2015, AGE Network is a young feminist civil society organisation (CSO) committed to advancing gender equality in girls' education and promoting young women's bodily and economic rights and leadership in Nigeria. It works to end child marriage and keep girls in school, and provides support to rape survivors, teenage mothers, victims of domestic violence and female genital mutilation, LGBTQI+ women, sex workers, women and girl refugees from Cameroon, internally displaced women and girls, and other economically disadvantaged and vulnerable women and girls.
What do you see as the main women's rights issues in Nigeria, and how does AGE Network work to address them?
One of the main issues is women's right to pregnancy by choice. In Nigeria, there's an imbalance in the sexual and reproductive health and rights of women and adolescent girls. This is evident in the country's discriminatory abortion law, which only allows medical abortion under certain circumstances. This strict law, alongside shame, social stigma and a lack of access to timely and non-judgemental information about safe, self-managed medical abortion and legal support, steers young women towards unsafe abortions.
Many young women with unintended pregnancies, particularly those in vulnerable settings and displaced communities who are pregnant as a result of sexual violence, rape or incest, and those with critical medical conditions who cannot carry a pregnancy to term, seek unsafe abortions from quack doctors in hideouts and become vulnerable to irreparable harm or death. This has contributed to the current maternal mortality ratio of 512 per 100,000 live births, according to a 2020 report by the Federal Ministry of Health.
To address this situation, AGE launched the #BellebyChoice campaign, an initiative to advance women's and girls' bodily rights and autonomy by securing their rights to pregnancy by choice, not by chance. The campaign seeks to curb unintended pregnancies by improving access to and uptake of family planning and modern contraception and end unsafe abortions through the provision of timely and non-judgemental information and legal support so that women can access safe and self-managed medical abortions. We have a dedicated hotline and use local and pidgin languages to address communication barriers in accessing sexual and reproductive health services among women and adolescent girls.
Additionally, since the beginning of the COVID-19 pandemic, AGE has stood in solidarity with vulnerable young women, including female sex workers, and has helped them access timely sexual and reproductive health services. We partnered with Women First Digital and incorporated their AllyChatBot for safe abortion via WhatsApp into our campaign. So far they have supported our efforts to end abortion stigma and help young women access non-judgemental sexual and reproductive health information and care through their mobile phones.
In the face of COVID-19, we have also advocated with the Nigerian government to relax the discriminatory abortion law. We have campaigned and engaged with key stakeholders to call on the government to set aside laws and policies that restrict access to safe abortion and allow the use of telemedicine and self-managed abortions in line with the guidelines put forward by the World Health Organization.
Why do you think the Nigerian government is not sufficiently responsive to women's rights demands?
Here is where another major women's rights issue comes in: there's a great imbalance in female representation and too many obstacles prevent women from having effective political participation. Inclusive governance is still a pending issue in Nigeria, and it continues to face strong resistance. For instance, just this March, Nigeria's Senate and House of Representatives rejected proposed bills to grant additional legislative seats to women and other forms of affirmative action.
This is also apparent in the area of climate justice and environmental protection: rural women form the majority among farmers, but they have not been fully integrated or carried along in the process to develop the national climate change mitigation and adaptation action plan.
What issues have you tried to bring into the CSW agenda this year?
This year AGE has called for climate justice, in the form of a more inclusive climate change mitigation and adaptation action plan. This was the official theme for International Women's Day 2022 (IWD 2022), to which the priority theme for the CSW's 66th edition (CSW66) was closely aligned.
We carried out an online campaign, joined our civil society partners' side events at CSW66 and hosted a virtual summit to commemorate IWD2022, in which we reflected on climate change and its disproportionate impact on women and girls, reviewed the progress made so far in mitigating climate change in Sub-Saharan Africa, celebrated women's achievements, raised awareness of gender bias, engaged leading feminists working on climate justice and environmental protection in both government and the private sector in discussion and called for investment in Nigeria's renewable energy sector.
Against all odds, women in Nigeria have played a key role in addressing the impacts of climate change and advancing climate justice. However, in spite of their contributions, women and girls – and particularly those in vulnerable settings and displaced communities – are still being disproportionately affected by the lack of climate action.
What were your expectations of CSW and to what degree have they been met?
Our expectations were to be able to connect, collaborate with and learn from women's rights organisations and activists from around the world, joining together in a unified call for climate justice.
We re-echoed the achievements and contributions of our women, reviewed the reality and impacts of climate change on women, and called for a more level playing field and gender-responsive climate change mitigation and adaptation for a sustainable future for all.
But we were unable to participate fully due to internet connection problems and time zone differences during most of the events.
Do you think that international bodies, and specifically the UN, adequately integrate women into their decision-making processes?
As the leading international body, the UN has created an enabling environment for women's participation in leadership and decision making and inclusive governance, including through Sustainable Development Goal number 5 on gender equality. However, UN member states should match this with efforts to honour their commitments at home, reducing gender inequalities, tackling human rights violations, and upholding the rule of law.
Civic space in Nigeria is rated 'repressed' by the CIVICUS Monitor.
Get in touch with the African Girls Empowerment Network through its website or its Facebook page, and follow @TheAGENetwork on Twitter.